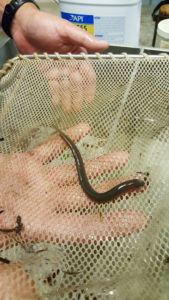 The fisheries scientists at Four Peaks bring decades of professional and academic experience to help our clients manage a diversity of fisheries issues. Our solutions are built upon a solid foundation of ecological science, careful analyses and a commitment to provide the highest level of customer service. Whether it's salmon recovery, fish passage or improving hatchery performance, we can help you meet your goals.
Salmonid, lamprey and sturgeon ecology
Hatchery operations, monitoring, and evaluation
Fish passage and survival
Fisheries management
Field sampling
Behavior & Survival in the Aquatic Environment
Combining ecological data with physical and environmental data provides the
information that biologists and managers need to understand fish behavior and make timely resource decisions. Our experts leverage a wide range of cutting-edge technologies to make inferences about the behavior of aquatic species and deliver answers to complex ecological questions.
Acoustic and radio telemetry
Passive integrated transponder (PIT) technology
Sound and vibration monitoring
Acoustic Doppler current profiler
Imaging sonar (DIDSON and ARIS)
Water quality monitoring
Surface and groundwater modeling
Four Peaks scientists are regional fish passage experts and have played key roles in the application and development of technologies that are routinely used to interpret fish passage behavior and survival. We've led juvenile and adult fish passage studies throughout the Pacific Northwest and have helped our clients improve passage efficiency and survival at their projects. If you have a fish passage issue to solve, we can help.