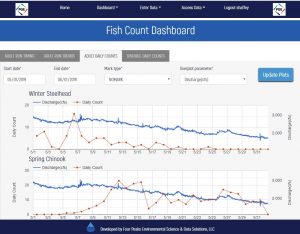 Four Peaks is leading the team responsible for upgrading the adult fish counting program at eight dams on the Columbia and Snake rivers in Washington and Oregon. Work includes developing a software system for managing fish count data and managing a team of over 45 fisheries observers as well as overall project management.
Working closely with our teaming partners, Four Peaks developed new counting interface software, near real-time data transmission architecture, and a cloud-based system for checking, aggregating, and reporting hourly counts. This system electronically delivers daily count data to designated distribution and archival locations, provides live web access to data and project status for project managers, and our double-blind quality control process ensures the accuracy of fish count data. Overall, this system improves count data entry efficiency, data quality, and data availability.
This project required the Four Peaks team to specify, procure, and install information technology hardware, including computer hardware, network switches, and standing up our own internet connections at each count station. A comprehensive training program was implemented so that experienced fish counting staff were equipped with the knowledge to properly operate the count entry software prior to the start of the initial field season.
The team also acquired and installed new video equipment to improve the video image counting process.