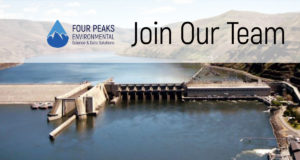 Four Peaks Environmental Science & Data Solutions, LLC (Four Peaks) is a growing environmental science and engineering consulting firm serving public and private entities in the Pacific Northwest. We are headquartered in Wenatchee, Washington, with offices in Seattle, Chicago and the greater Portland Area. We help clients solve challenges in the aquatic environment requiring expertise in aquatic research, water resource management, data science, and regulatory compliance. Our work environment is fast-paced with a work-hard/play-hard attitude. Our mission is to provide data-driven, cost-effective solutions and the highest level of customer service to our clients.
Four Peaks has an opportunity for an accounting specialist to support our payroll, invoicing and other accounting and financial compliance needs. The ideal candidate will have a background in accounting or finance with two or more years of experience in handling payroll, invoicing and accounting for an environmental, engineering or architectural consulting firm. The position requires proficiency with QuickBooks and familiarity with time-and-expense software that integrates with QuickBooks.
Please review additional information in the Summary of Duties and Qualifications sections below.  We expect to fill this vacancy as a mid-level accounting support staff with an opportunity for career growth.  If you are interested in being a part of our dynamic, growing team please apply with a resume and a cover letter describing your interest in the position, experience and salary expectations.
Position Title: Accounting Specialist
Summary of Duties:
The Accounting Specialist will be responsible for managing routine accounting, payroll and other related duties as assigned. This position works closely with the company's management team to ensure that Four Peaks is compliant with federal, state and local regulations on payroll, taxes and other general accounting. The incumbent is expected to ensure the confidentiality of sensitive employee information.
Category of work
(% of time dedicated)
Description of related tasks and duties
Accounting
(35%)

Track revenue and expenses within QuickBooks. Provide routine financial and accounting reports. Update customer information as new projects and customer engagements start or end. Deposit and update customer payments. Track vendor and subcontractor bills and ensure timely payments. Update bank transactions and reconcile bank account statements. Ensure that accounting records are securely stored as per company policies.
Payroll
(15%)

Manage payroll process and ensure that employee information is up-to date and accurate. Payroll processing will be performed by a third-party payroll processing company. Responsible for all communications with the payroll company and ensuring accuracy of payroll data (wages, benefits, and labor hours) transmitted to the payroll company in time for prompt payment to staff at the end of each pay period. Works with payroll company to provide responses to employee queries on payroll. The Specialist will verify accuracy of payroll tax deposits and completion of routine monthly and quarterly state and federal filings.
Time & Expense Processing
(25%)
Performs timesheet and expense report processing for each pay period. Perform preliminary review of timesheets and expense reports to ensure accuracy and completeness of the entries. Work with staff managers to complete timesheet and expense report approvals. Transmit expense reimbursement information to payroll company. Transmits sick and vacation time accruals to payroll company.
Invoicing
(25%)
Prepares client invoices for each monthly invoicing cycle. Coordinates with project managers to complete invoice review. Provides project budget updates to managers during each invoicing cycle. Tracks accounts receivables and works with project managers to ensure that outstanding invoices are collected in a timely manner.
Qualifications:
A bachelor's degree (minimum) in accounting, finance, business administration or a related field is required.
Competence in QuickBooks or other similar accounting software, and familiarity with integrating time and expense apps into accounting software
2+ years of experience in providing accounting support for a consulting or other similar service-based industry
Attention to detail, strong communication skills, problem-solving skills, and ability to meet timelines
Employment Location: Wenatchee, Washington
Summary of Employee Benefits:
An annual profit-based bonus reflecting companywide performance
8 paid holidays
12 days/year of vacation leave
10 days/year of sick leave
Employer-supported health Insurance for full-time employees
401K with an employer match on the first 5% of employee's contribution
Cell phone allowance
Contact Information:
Name: Pradeep Mugunthan
Email: pmugunthan@fourpeaksenv.com
Phone: 312.241.1923
Closing Date:  Applications will be reviewed and considered as they are received until the position is filled.
To apply for an open position, please email your resume and a completed Four Peaks Employment Application to pmugunthan@fourpeaksenv.com.